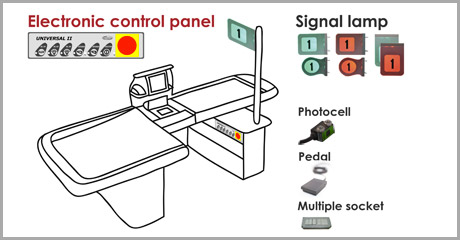 G.R. Elettronica S.r.l. offers a full range of solutions to equip checkout counters of supermarkets and general stores:
The electronic control panel comes in two versions: the Universal I model for checkout counters with one motor and the Universal II model for checkout counters with two motors. The control box has been designed to be fitted to any checkout counters on the market.

The plexiglass number signal is mounted on an aluminium pole and features all the advantages LED lighting offers. The lamp can be customised upon request.

Other accessories that complete the equipment of the checkout counter are also available: pedals, photocells and sockets.
At affordable prices and with similar performance, Universal I and II replace the main electronic control panel for single belt and twin belt checkout counters